In 2005, I was looking for something to occupy my time over the winter in the form of a Radio Controlled model. Finding a set of tugboat plans on EBay placed this project in motion. Some 8 months later, involving about 200 hours of detailed work, my version of a small harbour tug was launched.
(Turn up your speakers and enjoy the ďgreat Gretsch soundĒ)
The video may take time to load - your patience will be well rewarded...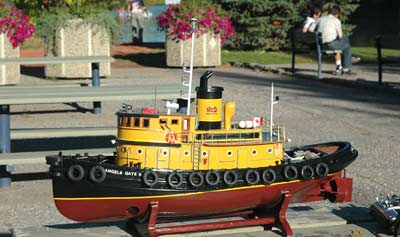 This model is built from an original set of scale drawings drafted by master modeler Francis Smith based on a WW II era military Small Tug. The design is based on the tug ďAngelís GateĒ, one of a very small number still sailing today. Angelís Gate operates out of the Los Angeles Maritime Museum in San Pedro, California.
I decided to name my interpretation Angelís Gate II even though it isnít an exact replica because it seemed fitting to honor the folks who spent many volunteer hours restoring the original and to create interest in their project.
Angelís Gate II is about 37Ē long with a 9Ē beam built to about 1/25 scale. I decided early on that it would have as much functional equipment as space would allow and to this end, it is loaded....about 30 lbs or 12 kg.
The ship is scratch-built form balsa strips and marine grade plywood with a wide selection of electronics providing the realism of a working boat. It features twin Pittman 3700 electric motors with individual Electronize FR30 speed controllers driving 60 mm Kort nozzles. Simulated diesel engine sound is provided through a Robbe large diesel sound amplifier syncronized to the motor speed. Exhaust smoke is piped through twin stacks from a Mack 7090ST electric smoke generator also syncronized to engine speed via a variable speed fan. Maneuverability is enhanced by a Marx 101 bowthruster also controlled by a speed controller. A second Ram tug boat horn amplifier provides a loud diesel tug horn. A small water pump simulates engine cooling with a RAM Boat Saver bilge pump ensuring any unwanted bilge water is eliminated before damage can occur. This device is self contained with a 9 volt battery and itís own activation switch. A third pump provides water to the fire monitor on the pilothouse roof.
The heart of the control system is power distribution and switching control. Power is provided through twin 12 volt, 7 amp gel cells connected to a Harbor Models Power distribution center providing protected taps for 12, 6, 5 and 3 volts. This is a convenient way to supply the different voltages required to operate all the devices. Equally important is the MCD 8 electronic switch that allows one RC channel to be split into eight separate switched devices. I use this to control the smoke generator. engine sound, deck lights, running lights, search lights, radar antenna, fire pump and horn.
RC control is provided by a Futaba 9C Super transmitter operating on 75 Mhz with a Futaba R138DP receiver. With expert help from Sam at Model Land in Calgary, the MCD 8 control switches were installed on the transmitter. Once set up and tuned in, the MCD 8 has proven perfectly suited for the job and has performed flawlessly. I took precautions of installing small 12 volt relays where the load exceeded the capacity of the MCD8 such as the fire pump and smoke unit.
As a first time scratch builder, this project proved to be a challenge and provided a significant sense of satisfaction when it was launched. As expected, a number of tweaks were required to fine tune all the details and as most projects with this level of detail
View construction pictures on the Tugboat Gallery page