I currently have two guitars, a Simon & Patrick acoustic and this gorgeous Gretsch Chet Atkins Country Gentleman. As any Gretsch fan knows, it's that great Gretsch sound that makes these guitars so special. This one is no exception.
Description:
1972 Gretsch Country Gentleman
1 7/8 inch thick body maple hollowbody, double cutaway, 17 inches wide, with two open "F" holes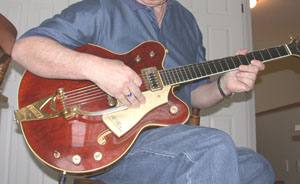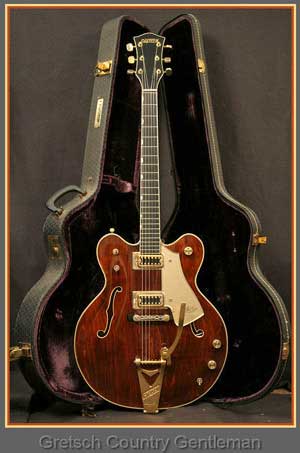 Filter'tron humbucking pickups with "pat pending"
Thumbprint (neoclassic) inlays.
Ebony fingerboard.
Two switches on upper bass bout (tone and pickup selection)
Two separate pickup volume knobs, plus master volume knob on cutaway.
Zero fret
Gold plated hardware
T-Roof Gretsch Logo
1 11/16" wide at zero fret; bound rosewood fingerboard; original Grover Imperial tuners
Original Case - Black with purple velvet interior
Gretsch V-cutout Gold Bigsby B6G vibrato
Gold Chet Atkins signature pickguard with Country Gentlemen printed in black.

According to the Gretschpages at www.gretschpages.com
" The 6122 Country Gentleman is considered by many to be one of the holy trinity of Gretsch guitars, along with the 6120 and White Falcon. Although it lacks the cowboy cool of a G-branded 6120 or the dazzle of the Falcon, it has an elegance (and some would say playability) the others lack. The fact that George Harrison played one (a '63) doesn't hurt, either.
The Gentleman debuted in 1958, but only after considerable input from Chet Atkins, and it was placed between the 6120 and Falcon in price. Originally it had a 17-inch single cutaway body that measured about 2 3/4" thick, with fake f-holes inlaid into the mahogany-finished maple top. The closed body, with fake f-holes was a concession to Atkins, who was constantly hounding Gretsch to produce a semi-hollow guitar with a solid block through the center, like Gibson's ES-335. Like Les Paul, Atkins wanted more sustain and less feedback. Atkins never did get the solid block of wood down the center, but Gents do have a partial block."
Some of well known players include Chet Atkins, Duane Eddy, George Harrison, Brian Setzer, Stephen Stills, Neil Young, Eddie Cochran, Randy Bachmman, Roy Orbison, Tom Petty, Bo Diddley, Roy Clark, Chris Isaak, Rusty Draper, Whitney Carson, Freddie Green (Count Basie Orchestra), Billy Bean, Sal Salvador, George Van Eps, and Bucky Pizzarelli and Elvis Presley.
You can see and hear the sound of Gretsch on the Eagles video "Hell Freezes Over" or read a bit of history here
The Country Gent remains a very collectable guitar, especially if it was ever owned or played by Chet himself. Gruhn Guitars of Nashville recently sold one of Chet Atkins personal Country Gents similar to mine.-
Here is the original advertisement.
Chet Atkins' Country Gentleman
---
This is not just any Gretsch Chet Atkins Country Gentleman model, it's the one Chet owned and played.

Chet gave this guitar to Jethro Burns -- they had married twin sisters. Documentation from Jethro's son John Burns is included, along with photos showing Chet with this guitar (one of them with Homer and Jethro).

This late '50s guitar is in exccellent condition. With original hard case it was originally priced at $100,000 and is now offered at the reduced price of $50,000.

For full appreciation...

Angled view from end
Close of body
Fingerboard end
Cutaway
Pickups
Bridge area
Pickguard
f-hole
Bigsby vibrola
Side view of Bigsby
Close of Bigsby
Inlay
Headstock
Back view
Photos
Guitar with photo